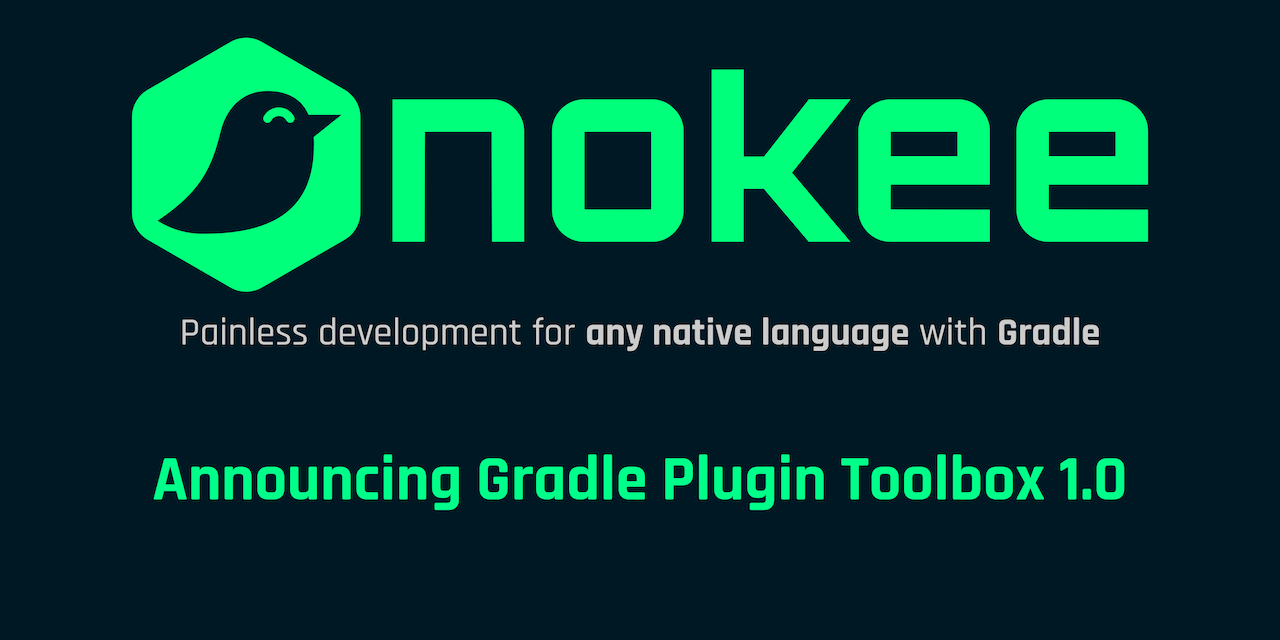 Introducing Gradle Plugin Toolbox
22 June 2020
The Gradle plugin development process is tedious. Writing a simple plugin is somewhat acceptable; however, very painful when developing complex plugins. The Nokee team is glade to officially unveil a toolbox to enhance the task at hand.
Today, we are announcing five plugins to improve the Gradle plugin development process:
Provides support for developing Gradle plugin implemented in Java.

Provides support for developing Gradle plugin implemented in Groovy.

Provides additional support for developing Gradle plugin-related projects.

Provides support for unit testing Gradle plugins.

Provides support for functional testing Gradle plugins.
The first two plugins are a welcome alternative for the java-gradle-plugin core plugin and focus on Java and Groovy language, respectively. The Kotlin ecosystem is a bit particular due to some workarounds(hacks) in Gradle itself.
The third plugin provides conveniences to projects supporting the development of Gradle plugins. It's a settings plugin and decorates all projects. The plugin provides conveniences for adding Gradle API dependencies of a specific version, querying compatibility information for released Gradle distribution, and adding dependencies on Gradle fixtures for testing maintained by Nokee. Have a look at the Gradle runtime compatibility sample to learn more.
The final two plugins formalize unit and functional testing for Gradle plugin development. Typically, unit tests focus on individual classes using the ProjectBuilder testing fixtures. On the other hand, functional tests focus on execution behaviours using the Gradle TestKit testing fixtures.
The core Gradle development plugins, e.g. java-gradle-plugin released as part of the Gradle distribution, are unfavorable to a fast iterative process. We have seen little improvement catering to the Gradle plugin development experience despite a need for key features to aid high-quality plugin development.
We have a lot more features to come soon! Please vote for your favourite to help us prioritize which feature to deliver first in our next release.
Help diagnose incompatible plugins in future releases.

Improve user experience and promote plugin adoptions.

Use the Gradle fixtures with any testing framework.

Offer more coverage options to plugin authors.

Improve the plugin testing coverage across JDKs.

Ensure a baseline quality for all plugins.

Quick and easy creation of plugins by removing the majority of a plugin project setup steps.